Christmas comes! Company gives benefits! World-Way staffs wish you all merry Christmas!!!
---
Click:2255  Time:2015-12-25 08:43:00
Christmas comes! Company gives benefits! World-Way staffs wish you allMerry Christmas!!!
The north wind blow and snow will be gone with the wind, "ding ding dang ding ding dang", in a snow-white and colorful atmosphere of joy, once again, we ushered Christmas.In this special day all staffs received a surprise, a surprise of World-Way's Christmas present for each employee, which let us warm with grateful and touched heart.No matter who, all have the right to be happy in this day. Even if you are in the ends of the earth, you can also send joy and blessing to the be loved person.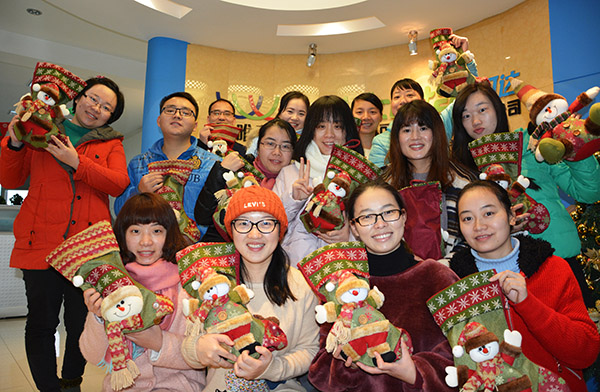 Everyone's Blessing Words:
1.nowflakes bloom warm; world pervaded with honey sweet; Chimneys madadayo smoke; Fireplaces warm with relaxing; Flower tree emit fragrance; Urchin begs for candy; Reindeer run out for health. Christmas permeated with blessing. I wish: Merry Christmas!
2.Snow of Christmas dances with romance for conveying festival warm; The Christmas tree hangs with beautiful greetings for spreading happy mood; Make up the warm Christmas message for transmitting the sincere blessing; I wish you a happy and blessed Christmas!
3.Brightness of fireworks means the beginning of happiness; shine of meteor means the desire to become reality; The ding of the Christmas is the strikes of good luck; Message of the bell is my wishes you to Christmas, wish you peace, health and joy!