Anti-bacterial activity of Hibiscus Extract
---
Click:96  Time:2020-02-05 16:38:00
The use of medicinal plants as raw materials in the production of drugs is again gaining popularity. Hibiscus sabdariffa is widely taken in the South-western part of Nigeria for the treatment of various diseases. Aqueous-methanolic extract of H. sabdariffa was investigated for its phytochemical constituents, antimicrobial activity and cytotoxicity using brine shrimps lethality assay. The extract was found to contain cardiac glycosides, flavonoids, saponins and alkaloids. It exhibited antibacterial activities (MIC 0.30 ± 0.2- 1.30 ± 0.2 mg/ml) against Staphylococcus aureus, Bacillus stearothermophilus, Micrococcus luteus, Serratia mascences, Clostridium sporogenes, Escherichia coli, Klebsiella pneumoniae, Bacillus cereus, Pseudomonas fluorescence. It was also found to be potent against brine shrimps with LC50 value of 55.1 ppm.
Hibiscus sabdariffa L (HS) (Malvaceae), a common local drink popularly known as zobo in Nigeria and medicinal herb, is used in folk medicine in the treatment of hypertension (Wang et al., 2000; Odigie et al., 2003; Olaleye and Akindahunsi, 2005). Hibiscus anthocyanins, a group of phenolic natural pigments present in the dried flower of Hibiscus sabdariffa and Hibiscus rosasinensis, have been found to have cardioprotective (Jonadet, 1990), hypocholesterolemic (Chen et al., 2003); antioxidative and heaptoprotective (Wang et al., 2000) effects in animals. Aqueous extract of H. sabdariffa enhances cardiac Na + -K + - ATPase and Ca 2+ -Mg 2+ -ATPase activities (Olatunji et al., 2000). Anthocyanin pigments and other phenolic compounds (Hibiscus protocatechuic acid), also isolated from dried flowers of H. sabdariffa , demonstrated protective effect against tert-butyl hydroperoxide (t-BHP)-induced oxidative damage and hepatotoxicity both in vitro and in vivo (Wang et al., 2000; Liu, 2002). The aqueous extract was found to be effective against Ascaris galliavium in poultry. Also the colouring matter of the calyces is said to be lethal to Mycobacterium tuberculosis. In India, a decoction of the seeds is given to relieve dysuria and many cases of dyspepsia and debility. H. sabdariffa has been reported to be antiseptic, aphrodisiac, astringent cholagogue, demulcant, digestive, diuretic, emollient, purgature, refrigerant resolvent, sedative, stomachic and tonic. It is also a folk remedy for abscessses, bilious conditions, cancer, cough, dyuria, scurvy and stangury and cancer (Morton, 1987). However, there is dearth of literature supporting its uses in the treatment of cancer, abscesses, bilious conditions and cough, which are caused mainly by microbial infections. In light of this, this work is therefore designed to evaluate cytotoxicity (using brine shrimps lethality test) and antimicrobial activity of its aqueous-methanolic extract.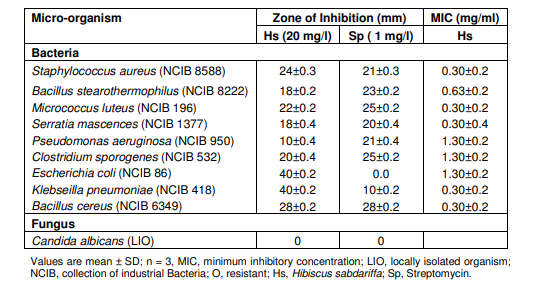 Chen CC, Hsu JD, Wang SF, Chrang HC, Yang MY, Kao ES, Ho YO, Wang CJ (2003). Hibscus sabdariffa extrac inhibit the development of atherosclerosis in cholesterol-fed rabbits. J. Agric. Food Chem. 51(18): 5472-5477.
Jonadet M, Bastide J, Bastide P, Boyer B, Carnat AP, Lamaison JL (1990). In vitro enzyme inhibitory and in vivo cardio-protective activities of Hibiscus sabdariffa L.J. Pharmacol. Belgium 45(2): 120- 124.
Wang CJ, Wang JM, Lin WL, Chu CY, Chou FP, Tseng TH. (2000). Protective effect of Hibiscus anthocyanins against tert – butyl hydroperoxide – induced hepatic toxicity in rats. Food Chem. Toxicol. 38 (5): 411 – 416.
Olatunji LA, Adebayo JO, Adesokan AA, Olatunji AO, Soladote OA. (2005). Chronic Administration of aqueous extract of Hibiscus sabdariffa enhances Na + -K + -ATPase and Ca 2+ -Mg 2+ -ATPase activities of rat heart. Pharm. Biol. 44 (3): 213-216.