GINSENG EXTRACT
Ginseng Extract is extracted from Panax Ginseng C.A. Mey
Type: ginseng extract
Texture: fine powder
Test: HPLC/UV
Part: root/stem
Extraction Type: Solvent Extraction
Packaging: Drum
Grade:Food
Model Number: red korean ginseng extract
specification: 10% 80% ginsenosides
certificated: HACCP, KOSHER
Non-Irradiation: confirmed
free sample: yes
flavor: Very bitter
shelf life: 2 years

Pesticide Free Ginseng Extract Powder with Immnue Support for Energy Power Supplement
Quick Details
Type: ginseng extract
Form: Powder
Part: root/stem
Extraction Type: Solvent Extraction
Packaging: Drum
Place of Origin: Hunan, China (Mainland)
Grade: A
Brand Name: World-way
Model Number: red korean ginseng extract
specification: 10% 80% ginsenosides
color: Yellow-white to light yellow
certificated: HACCP, KOSHER
Non-Irradiation: confirmed
free sample: yes
odor: Characteristic
flavor: Very bitter
shelf life: 2 years
Texture: fine powder
Test: HPLC/UV
Ginseng is the most famous Chinese herb, a kind of perennial herbaceous plant, florescence is from June to September, fruit period is from July to Sepetember. Ginseng is the most widely recognized plant used in traditional medicine. Various forms have been used in medicine for more than 7000 years.Morden medicine has proved that ginseng has the actions of anti-fatigues, anti-aging, anti-shock; improving mental vitality and memory; regulating incretion; strengthening immunity and cardiovascular system.
Specifications & Analysis report

Product Name
Ginseng Extract
Appearance
Light yellow fine powder
Botanical Source
Panax ginseng C. A. Mey
Active ingredient
ginsenosides
Used Part
Steam & leaf / Root
Solvent Used
Water or/and Ethanol
Solubility
Water soluble
Main Functions
Immunne Support;Improve memory;anti-fatigue and anti-aging
Specification
10% ginsenosides by HPLC;

80% ginsenosides by UV;

30% Polysaccharides by UV;
ITEMS
SPECIFICATION
METHODS
Description
Appearance
Light yellow fine powder
GB 5492
Odor & taste
Very bitter and characteristic flavor
GB 5492
Particle size
≤ 200µm
CP2010
Loss on Drying
≤5.0%
CP2010
Sulphated Ash
≤5.0%
CP2010
Chemical Tests
Extraction Ratio
25-30:1
TLC
Total ginsenosides
≥80%
HPLC
Carrier
None
/
Heavy metals
≤10.0 ppm
CP2010
Lead
≤3.0 ppm
CP2010
Arsenic
≤1.0 ppm
CP2010
Cadmium
≤1.0 ppm
CP2010
Mercury
≤0.1 ppm
CP2010
Solvent Residue
≤5000 ppm
CP2010
Pesticides Residues
Complies to EP
CP2010
Microbiological Tests
Total Plate Count
≤10,000 cfu/g
CP2010
Yeast & Mold
≤100 cfu/g
CP2010
Enterobacteriacea
≤100 cfu/g
CP2010
E.Coli
Absent/g
CP2010
Salmonella
Absent/25g
CP2010
Product Advantages

1. Boost immune system;
2. Improve memory of healthy middle-aged people;
3. Treat diabetes;
4.Protect erectile dysfunction;
5. Help cancer patients receiving chemotherapy, and reduce the risk of cancer.
Ginseng polysaccharide is one of the main components of ginseng, which has the functions of enhancing immunity, anti-tumor, anti-aging, anti-radiation and so on. With the development of clinical research, ginseng polysaccharide is used widely beyond just the field of anti-tumor. Natural killer cells are important immune cells in the body, and they are the body's first line in defending against infection and tumor, they can directly kill the target cells, without antigen presentation.Ginseng polysaccharide has the functions of activating NK cells and promoting the killing activity of NK cells. It has been proved that ginseng polysaccharide has a certain effect on the activity of NK cell.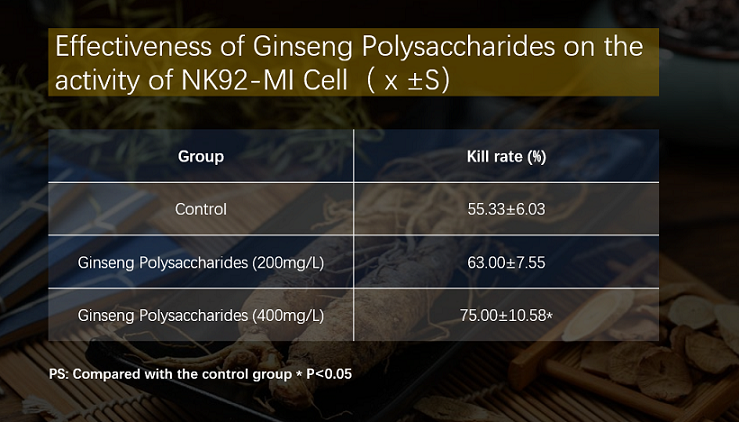 Applications
1.Ginseng Extract can be applied in food field, such as beverages;
2.Ginseng Extract can be applied in pharmaceuticals as capsules or pills;
3.Ginseng Extract can be applied in health products as capsules or pills.
4. Ginseng Extract can be applied in personal care products.



Our Services
● We provide customized specifications.
● We have professional QC team to ensure your product more better.
● Profession SOP from starting raw material to final product.
● Have the strict inspection during the processing.
● Make the 100% inspection before the shipments.
【Close】